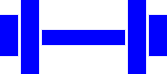 A Service Provider You Can Rely On
Quality professional service is the backbone of our business! Our service team is factory trained, experienced, well equipped, and have over 45 years of combined service excellence. Dependable service with a usual response of 48 hours or less. We don't just change a part, we diagnose the cause of the failure and correct it to avoid future repairs. 
Custom made cables made on site that save you time and money!
Service for all Commercial Brands